October 26 is intersex awareness day. What is intersex? Here is the medical definition of being intersex. What is the legal definition of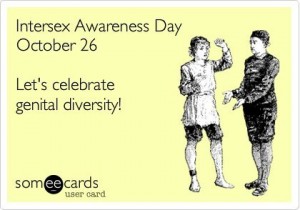 intersex? Regardless of our race, color, birth, gender, caste, religion, sexual orientation, we all have to deal with the laws. Depending on each person's circumstances, to provide a "complete life", one needs to understand all definitions pertaining to them. Sometimes lack of laws destroys lives like no other crimes can. As a society, we have a history with social justice issues like gay rights, interracial marriage rights, civil rights, women rights, and so on. Do intersex families have rights? If intersex causes infertility and an intersex family opts for IVF to have children, do IVF families have rights? Do IVF children have rights and deserve compassion also? While October 26 is about intersex awareness day, let us make it complete and also include the issues facing an intersex family which is reproductive rights and IVF children rights and immigration rights. Unless, we as a society think that intersex people do not deserve an equal opportunity to have a family with a spouse and children? Or we as a society think that a person who dares to have a family with an intersex person has committed such a grievous crime that not only he but also his innocent IVF children should be punished by splitting them? With gay rights movement on the upswing, will there be basic human rights if not equal rights for intersex families with IVF children? With the turn of the 20th century, there is lot of continued animosity against an immigrant, IVF father and a spouse of intersex resulting in a thousand lies, defamation and stereotyping. Our motivation is to save IVF children and get basic rights if not equal for IVF children and families of today who may also become IVF parents of tomorrow, whats your motivation for the continued animosity, secrecy and abuse? Like water, truth always finds a way – education and awareness is the right path while secrecy and lies creates only more victims including innocent children – IVF or intersex.
LGBT refers to more of a sexual orientation of a person and should be respected. As per IGLHRC, they added the "I" for intersex in LGBTI to include their human rights also although intersex is not a direct reference to sexual orientation. For most people, due to lack of awareness, they may not discern the difference between "sex" and "gender" at first shot. I was like that. It takes a few discussions and some interest in understanding the difference between "sex" and "gender". It is ironic that laws do not make the same distinction and as a result there are more inadvertent victims. Asian countries like India, Nepal, Pakistan have long recognized the "third gender" legally and moved away from the colonial British definition of "binary gender". While human rights may not be great in these countries overall, the fact that they give an opportunity to the "third gender" to be honest and live truthfully is liberating. Maybe in this one area, the west can learn something from the east. Australia started offering the "third gender" as a legal option in 2011 followed by New Zealand. In 2013, Germany will become the first country in Europe to offer the "third gender" as a legal option. Progressive countries like US, UK, Canada and so on are waiting but it is inevitable just like "same-sex" marriage rights eventually have to be granted.
Two things –
1) if intersex people are either men or women, then why a legal "third gender"? Are governments like India, Nepal, Australia, New Zealand, Germany, and so on who make laws wrong or are they doing the right thing?
2) By recognizing the "third gender" legally, is the next logical step to address other issues that specifically impacts intersex families who have lived in secrecy and in lies for years and the issues have never been addressed?
A spouse of a gay person is also gay, a spouse of a lesbian person is also lesbian meaning the laws or "lack of laws" impact both individuals the same way. Do the lack of laws for intersex marriages also affect both individuals in an intersex marriage the same way? If an intersex person wants to recognize themselves as a "male", or a "female" or a "third gender", it is their choice. However, having no laws for addressing the specific issues of "third gender" is victimizing people. If there are laws for "male", "female", then why not equal laws for "third gender"? Do a spouse of intersex and children of an intersex marriage deserve equal rights? Or are their crimes so heinous in supporting an intersex person that they should be ostracized and silenced? Ironically, thats been the traditional way to deal with intersex for centuries and only now in the 21st century, we have truth and transparency. Do the spouse of intersex and children of an intersex marriage have to wait a few more centuries and be victimized before getting basic human rights, if not equal?
A spouse of intersex is not gay but from a legal perspective is treated as "gay" and the anti-gay laws are applicable to a spouse of intersex and his children. We look forward to a time when we will have equal rights for IVF children and families, equal intersex rights, and equal caregiver rights. More importantly, every human will be allowed to live with the truth and freely instead of in secrecy and lies – it is every individual's basic human right (if not equal) regardless of their religion, race, color, caste, sexual orientation, gender, birth type (natural or IVF) – or is it?